THAI 10/10
PROJECT DETAILS
Meet the perfect 10 from Thailand – THAI 10 LUXE Global Lifestyle showcase, premiers for the first time at the heart of Shanghai.
DITP – Thailand's Department of International Trade Promotion presents Thailand's curated Top brands of fine-living in an exclusive experiential 1-day pop-up gallery Thai 10/10 Thai-Shi-She – Thai 10 Luxe Global Lifestyle Showcase set to be held on September 14th from 10am – 10pm at The Swatch Art Peace Hotel – The Bund, Shanghai.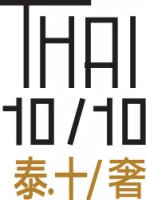 10 lifestyle brands from Furniture and Decoratives, to Well-being and Fashion, Introduced to China by 4inGroup can be experienced in live showcase, meet the talents behind the brands, try the products, enjoy the very best of Thai experience and tastes.
The event will be joined by Shanghai's A-Listers, Design-Fashion-Well-being experts and enthusiasts while interested buyers and guests are exclusively welcomed to join.